Astra Backlit Logic Keyboard for Avid Media Composer PC  
Logickeyboard is one of the world's leading keyboard innovators. Specializing in shortcut keyboards and keyboard cover solutions. Consequently  keyboards that are functional, stylish and built for maximum efficiency.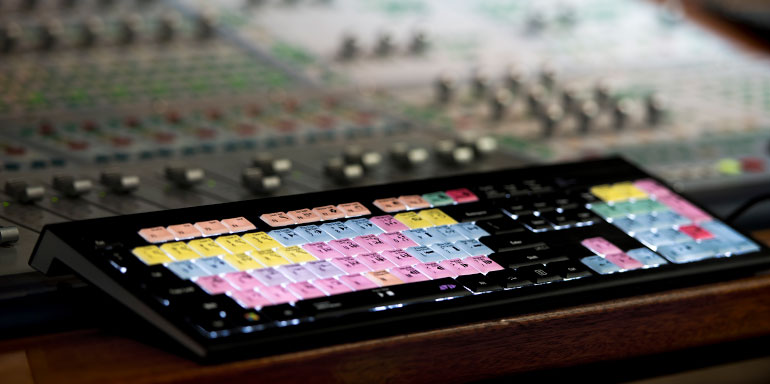 Founded in 2002. Headquartered in Denmark, and has sales offices in Arizona, USA and Guangzhou, China.
Astra Backlit Logic Keyboard for Avid Media Composer PC
You'll never be left in the dark with the new ASTRA series.  The next-generation backlit keyboard that's packed with extras! No more struggling to see your keyboard while editing in a dark room – the ASTRA keyboard offers five selectable light levels, making it the perfect choice for any lighting environment. The ASTRA series is optimal from day to night, bright room or dim, with just a tap of your finger.
USB hub
With one wire for the USB hub and a separate one for the keyboard. The ASTRA series is ideal for editing systems that use USB KVM extenders, and installations that require data security.
The dedicated LogicKeyboard makes controlling Avid Media Composer a lot simpler and faster. It is ideal for post-production facilities, professional video editing houses. And also  anyone else who requires all the custom key commands, to readily accessible from a dedicated, clearly labeled, colour-coded keyboard. Using this keyboard is also a great way to learn the Avid Media Composer key commands. And since the Avid Media Composer dedicated keyboard also features all the regular letter, number, and symbol labelling that you will find on a conventional keyboard. Can simply be used as a substitute for it. Easy to set up and use. Also , no software  is required. And finally Soft touch keystroke – Ideal for all day comfort.
Backlit keys for enhanced contrast and readability
Dimmable backlight with five selectable levels. 100/80/60/40/20/0%, which allows you to set the light at the exact level you prefer considered the light in your surroundings.
Built-in dual USB ports
Automatically switches to smoothing light when left alone for three minutes
Scissor switch keys for lighter, quieter keystrokes
Innovative design suits any desk or workstation
Benefit from fine craftsmanship using only the best materials
Color-coded, labelled shortcut keys with graphical commands
Compatible with Windows 2000, XP, Vista, 7/8/10